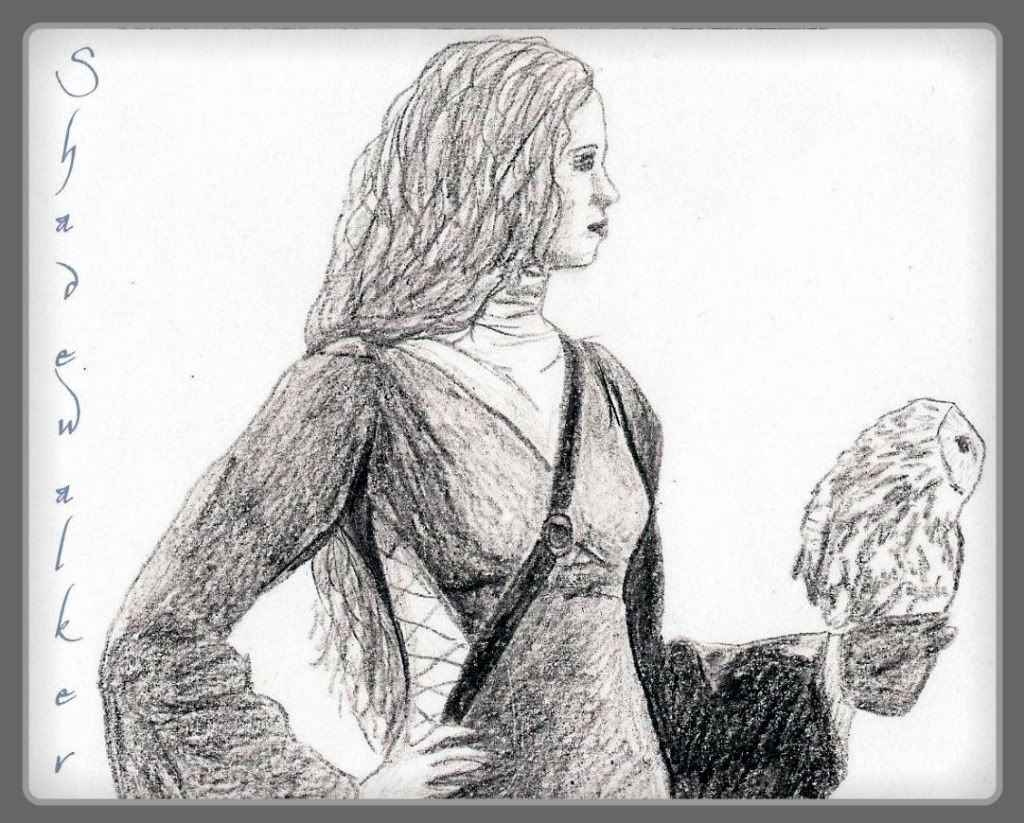 Chapter 2: A Holiday
"Are you going home for the holidays as well?" The cheerful voices were muffled by the heavy wooden bookshelves brimming with aged tomes as they floated through the library. Light from the high windows struggled past the heavy drapes which obscured most of the vibrant stained glass scenes inlaid within the thick panes. Shadewalkers from various ranks were scattered in friendly knots about the stiff leather furniture. Their hushed voices bubbled excitedly about the approaching festival of Brundsa. The only exception was a small, fiery-haired girl browsing the shelves along the far back wall, a towheaded man drifting lazily behind her.
Kiele sighed and focused her pale gaze on the book before her. Tucking her legs beneath her, the Shadewalker settled deeper into the overstuffed chair, causing Manyu to ruffle his feathers as he shifted position on her shoulder. Not for the first time, Kiele wondered how the guardian could rest weightlessly on her shoulder yet she could feel the pinch of his talons as they dug into her skin? The spirit never answered of course, except to say that that was simply how it worked. Kiele flicked a copper curl off the page as she wrinkled her nose in annoyance; nothing is ever simple, there are reasons and explanations to everything.
Her Protector was sprawled in the chair beside her, his long legs stretched out before him as his hooded gaze swept the room with a passing disinterest. It had been nearly a month now since her Culling but still she had yet to become used to her silent shadow. Kiele pursed her lips thoughtfully as she studied the man over the edge of her book. Tadan may look the part but he certainly didn't act like the other Protectors she had seen.
There was a rush of air as Tadan abruptly flung himself from his chair to stand before her, his palm resting easily on the hilt of his sword. Peeking around him, Kiele noticed an initiate by the name of Shama. The boy was staring nervously up at the Protector, a large box clenched tightly in his hands.
"Do you know him?" Tadan growled, his eyes never leaving Shama's.
"Yes," the fiery-haired mage replied, pressing lightly on his hip until he reluctantly moved out of the way. "Greetings, Shama, is that for me?" Kiele held out her hand eagerly, her eyes gleaming with excitement.
"It is, Kiele. Uh, Proficient Kiele," Shama quickly corrected, "my apologies," he mumbled more towards Tadan than towards her.
Settling the box in her lap, Kiele tugged gently at the white ribbon wound about it. Tadan frowned down at the innocuous brown package, "Perhaps I should open it, just in case…" Ignoring him, Kiele dug inside, her colorless eyes widening as she drew out a beautiful embroidered scarf with delicate beading about the edges. Tadan stretched out a long-fingered hand and gently flicked at the fringe. "Who is that from?"
"My parents," Kiele responded, holding up a small note to show him. Beautiful calligraphy flowed elegantly across the small card. To our daughter, Kiele. Have a merry Brundsa. "Isn't it so wonderful of them?" She kept her voice bright as she smiled at him. "They send me a package every year."
"We aren't going to see them?" Tadan replied carefully, his frown deepening the more he looked at the impersonal note left with the gift. "I already told my family I would not be seeing them this year."
Kiele chewed on her bottom lip thoughtfully. "Well, they are too busy for me to come visit so I'm staying here." She turned her head, her hair falling in a curtain across her face, obscuring her expression, "I'm certain it will be all right if you go then to visit your family."
"My duty is to remain with you." Tadan paused and scratched at the light stubble along his cheek. "Though, if you want, I suppose you could come visit my family with me. It would be a far better Brundsa than here. Only if you want though."
Manyu hooted quietly as Kiele leapt to her feet, her unruly copper mane fluttering about her. "Oh, Tadan, I'd love to!"
_________________________________________________
"Isn't this wonderful, Manyu?" Tadan's mother, Cecilie, hid a smile as she watched the girl seemingly holding a conversation with her shoulder. The girl's strange, pale eyes turned towards her, a bright grin lighting up her face. "Thank you again, Mistress Maelgo, your home is charming."
A young girl, no older than six winters, came barreling through the doorway into the sitting room. Her wheat colored hair falling into her dark eyes as she grasped the Shadewalker's hands in her own. "Kiele! Will you come play with me?"
A bright grin lit up her face, "Of course I will Nia!"
Leading her by the hand, Nia raced out of the building, Kiele struggling to keep up. Tadan shook his head and trailed silently behind. Kiele nearly tripped over her as she abruptly stopped and spun around. Nia's head cocked to the side as she regarded the Shadewalker with a puzzled expression.
"Do you have a guardian spirit?"
Kiele tossed a smile behind her at the small, white barn owl. He had taken to perching on Tadan's shoulder since they arrived. Whether to afford a better view or because Kiele seemed to quickly have become a favored playmate of the Protector's younger, rambunctious siblings, she couldn't say. "Yes, I do. His name is Manyu, he is right over there."
Nia scrunched up her face, her dark eyes squinting until they were nearly slits as she strained to see the spirit. "Where does he come from?"
"Spirits like Manyu come from the Overworld and they reach our realm through the Pale."
"But where is the Pale?"
"It is all around us, it-" Kiele pressed her lips together in concentration, "Let's see. Come here for a moment." Kneeling down, Kiele drew three circles in the dirt, each one slightly overlapping the others. "There is far more to life than what you can see with just your eyes. Our world is comprised of many layers. This," she said, pointing to uppermost of the circles, "is the Overworld. The realm of spirits from where Shadewalkers and the Touched, like your brother, draw strength for their gifts." She drew her finger down towards the circle on the left, "and this is the Middle World, the physical realm that you and I live in." She pointed to the last circle. "This is the Underworld, the realm of demons. Where they all meet," now she pointed to the area where the two circles overlapped, "is the Pale."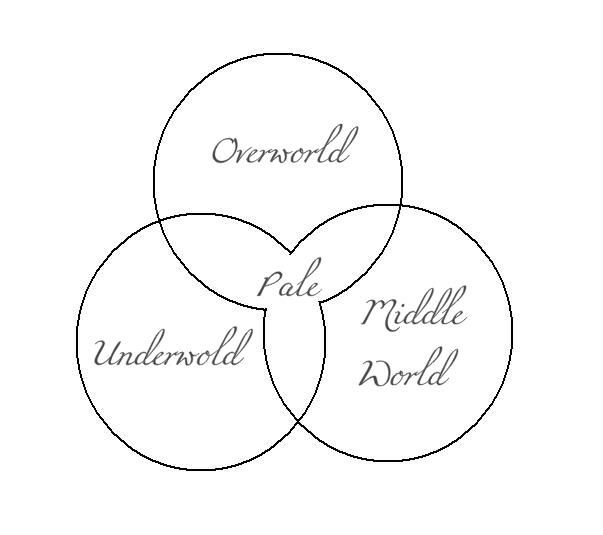 Nia knelt over the small diagram, her finger carefully tracing the circles in the dirt. "I wish I could see them."
Kiele gave a small, sad smile. "Be careful what you wish for. Everyone has their own gifts, always appreciate the ones you have." Kiele shivered as a chill ran down her spine sending waves of goose-flesh rippling down her arms. Her pale gaze met Tadan's dark one. "Did you feel that?"
"Maybe, felt like a breeze. Why, what was it?"
"'Tis the evil of a tainted soul you feel, as it strikes a dark and terrible deal." Manyu's feathers ruffled in an invisible breeze.
"One of the Tainted?" Kiele whispered, her eyes widening.
"Spirits," Tadan cursed darkly.
"It must be stopped before it spreads and all the light is dead."